In the Eralis Scheduling module, colors can be used to provide more immediate and direct feedback to the scheduler. Customizable colors can be assigned to the following scheduling attributes:
The color of the scheduling bar, which is linked to the status of the underlying Subjob. This allows the scheduler to see how the Job is progressing, especially where the jobs cover a short time frame. In such environments, especially if the staff resources are using a mobile application, like Eralis Anywhere, the individual can change the status of the Subjob to indicate that they have accepted the Job which in turn will change the color of the scheduling bar. They can then change the status to indicate that they had arrived on site, finished the job, etc., providing a clear picture to the scheduler.
The color of the job, which is linked to the Subjob Type of the underlying Subjob. When Subjobs are displayed in the Scheduling Pane, the background color of the Subjobs can vary based on the type of job. This can be used to provide feedback regarding the skills or teams that are needed on the job.
The level of work allocation assigned to a staff member.

This option is only available when the Scheduling View is set to By Task and allows the scheduler to easily see which resource are available and need more work assigned, and which are fully allocated. The system has four pre-defined color bands which are based on the Allocation %.

Less than or equal to 25% allocation
Greater than 25% and less than or equal to 50% allocation
Greater than 50% and less than or equal to 75% allocation
Greater than 75% allocation
The configuration of the colors is done in the Scheduling tool > Data > Preferences menu.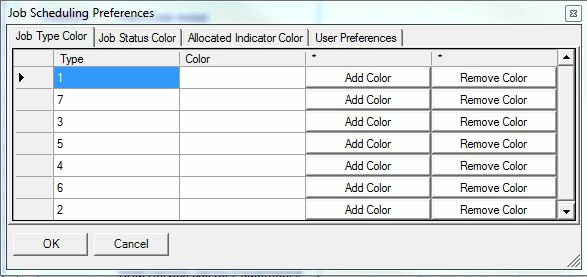 Configuring colors for both the Job Type and Job Status is restricted to users that have Eralis Job authorizations to the setup of Job Types and Job Statuses.