The General tab on the Master Job provides the user with the ability to enter additional details about the Job, which can then be used in various reports and documents generated from the system. This tab can be disabled for individual users through settings in the Eralis Job User Authorizations.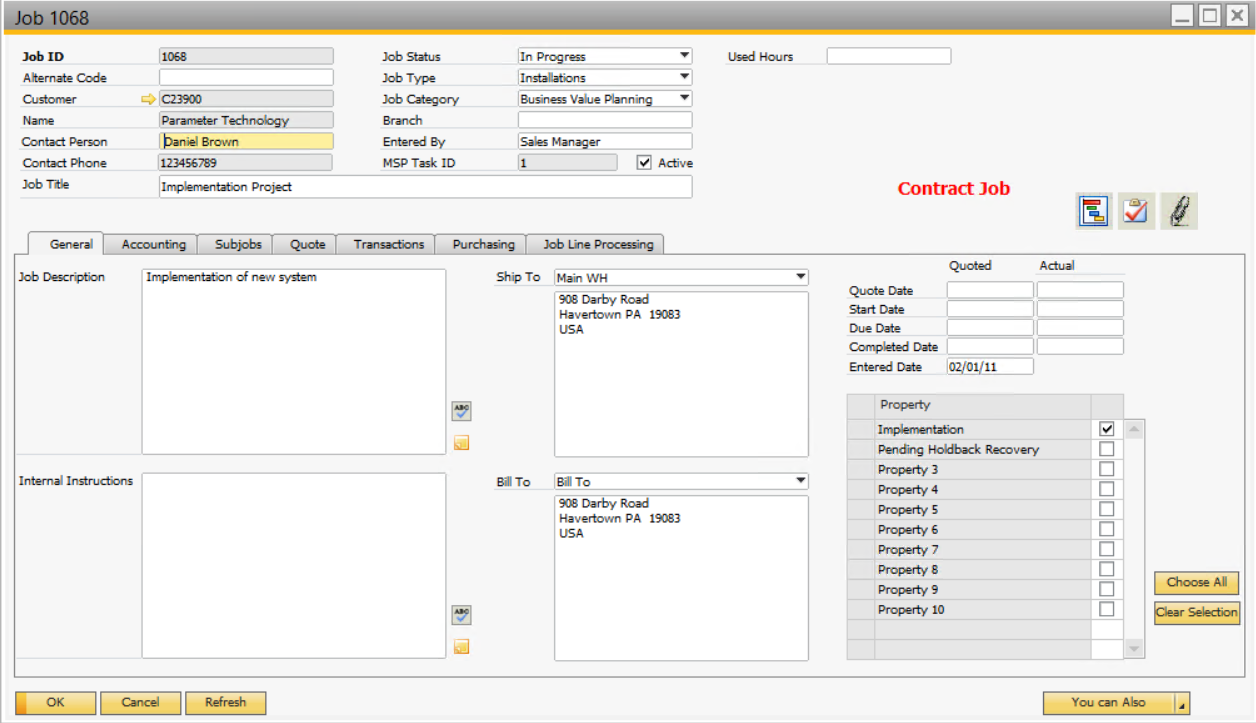 Field
Details
Job Description
This is a user-entered extended Job description that can be used to provide details about the work that is to be done on the Job. These details can be printed on Job
invoices and quotes if required.
Internal Instructions
The internal instructions field allows the company to enter additional
information for the staff members who will be working on the Job, that does not necessarily need to be displayed or presented to the customer. These notes and details can be presented on Job Cards and other internal work tickets as required.
Ship To
The ship to address on the Job represents the site address where the work is being done on the Job. The value initially defaults from the Business Partner selected on the Job, but custom entries can be directly entered into the system. The ship to address is used when processing drop shipment purchase orders within the stock check function. For the North American localization, this field is used to determine the tax code for the Job.
Bill To
The bill to address which initially defaults from the Business Partner assigned to the Job is used in the invoicing process to bring through address details for the invoice.
Branch
The branch that the Job is assigned to. This field can be defaulted from the logged in user and is used in certain Job authorization and access restrictions.
Entered By
The entered by field represents the project manager assigned to the Job and can be used with certain Job authorization and access restrictions.
Properties

The Properties grid provides a list of all the properties that have been set up in the system and allows the user to indicate which of the properties are applicable to a specific Job.