Pre-requisites
To make reports from Eralis Job available in Eralis Anywhere, you need to copy the Crystal Reports definitions into the following folder on the server: C:\Program Files (x86)\Eralis\Eralis Anywhere\App_Data\Reports
Note that reports created using the Report Writer are not supported. Crystal Reports can be found under C:\Program Files (x86) or Program Files\SAP\SAP Business One\Addons\Eralis Software\Eralis Job\Reports.
Adding New Reports
Under the main menu, navigate to the logged in user menu and choose Report Setup (e.g. Manager > Report Setup).
You can choose to either add a New Report Group or a New Report.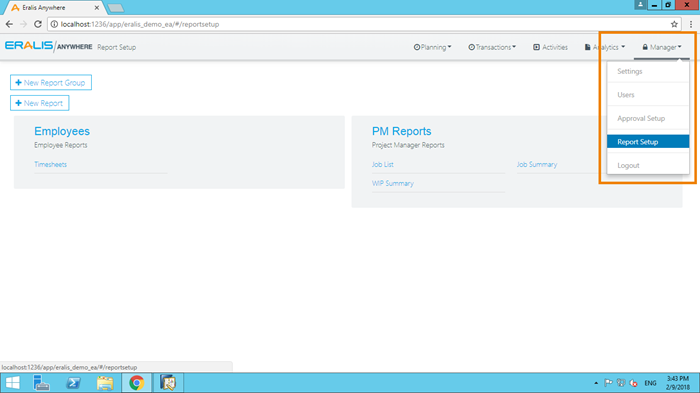 Report Groups
To add a new report group, click on the + New Report Group button
Type in a group name and description and choose Save Report Group.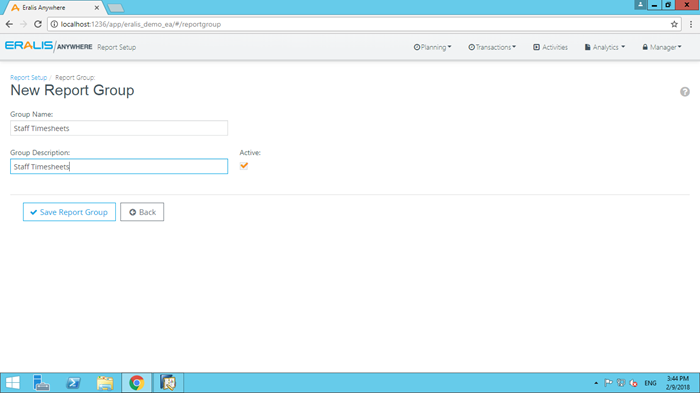 Reports
To add a new report, click on the + New Report button
Add a report name, description and in the Report File field enter the report file name including the file extension. Then choose a report group for new report. Ensure the Active box is checked.
Click Save Report.