When you allow users to edit subjob information in Eralis Anywhere, they will also be able to edit job statuses. There is additional setup required for this in Eralis Job.
In SAP Business One navigate to: Administration > Setup > Job > Job Attributes > Job Status.
An additional column called Anywhere Status will appear on the Define Job Status window. The statuses shown in this column will be used to determine the next Anywhere Status that is used in the Change Status feature on the subjobs in Eralis Anywhere. You can select the Anywhere Status that relates to the value in the Status Description field for Eralis Job.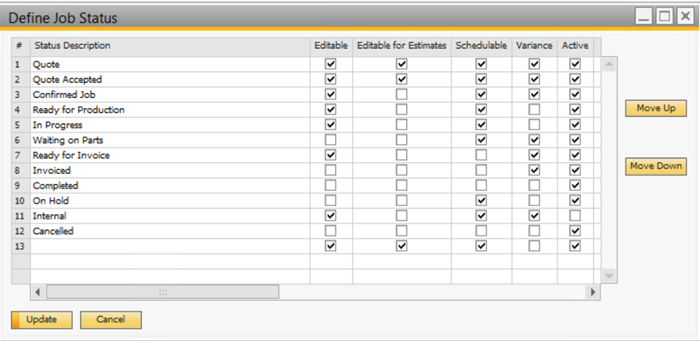 Eralis Anywhere users can promote a subjob from its current status to the next status as defined in the Anywhere Status column.
Note: The Current Status displayed on subjobs in Eralis Anywhere is based on the Job Status Description as shown in the table above (not the Anywhere status) this is to provide consistent statuses between Eralis Anywhere and Eralis Job.