Upon installation, an administrator is created that allows you to set company defaults, create users and manage user licensing.
The following default URL is also created and can be used to access the Anywhere login page: http://localhost:1236/
Use these credentials to login to your admin account.
Username: admin
Password: hello
Under the main menu, navigate to Settings under the logged in user's menu (e.g. Manager > Settings).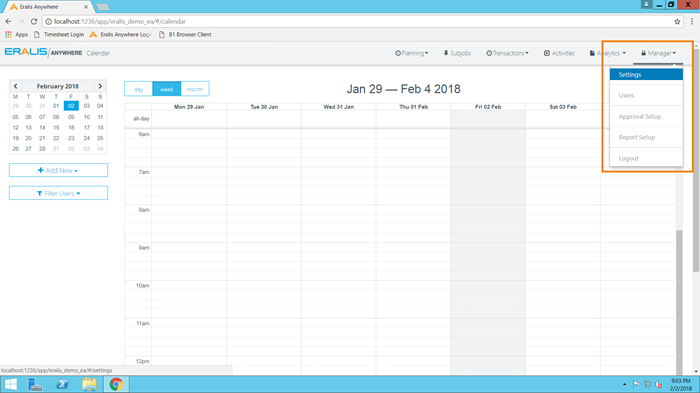 The default settings defined here will be inherited by new users but can be modified at the user level.
Default View: Select the page that users will see when they first login. By default, it is set to Calendar but this can be changed to any other page in the application.
Non-billable Entry: Set whether entries default to billable or non-billable.
Auto-populate Item Description: Set whether item descriptions auto-populate based on the item code.
Default Time Type: Select the default time type that will populate when users enter time.
Calendar Start Day: Change the day to match the start of your standard work week.
Default Timesheet Entry View: By default, this is set to week, but can be changed to display the grid in days.
Maximum items in drop down description: Set the number of items to appear in the drop-down lists.
You can also change the password for your admin account from this screen.