The closing of a Job is controlled by the status of the Job, along with the ability to mark a Job as inactive.
When configuring the Job statuses, the status can be defined as not being editable, which will prevent any user from being able to enter transactions against the Job, as well as prevent users from being able to make amendments to the details of the Job.
The ability to change Job statuses is controlled by user authorizations in the Eralis Job User
Authorizations. This allows users to be configured so that they are unable to change statuses of a Job, thereby not being able to reopen Jobs once they have been closed.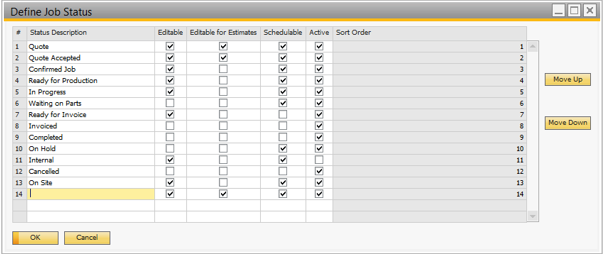 The second element to the closing of a Job or Subjob, is through the use of the Active checkbox. This allows a Job or Subjob to be deactivated which results in the Job or Subjob not being  displayed in search lists from that point on. No matter what the Job status is, no transactions can be processed through to an inactive Job or Subjob.
Eralis Job will not allow a user to set a Job to an inactive state or place the Job in a non-editable status while there are draft transactions linked to the Job. All draft transactions must be processed prior to a Job being closed.