For older product versions that do not use the online license registration, the process for new sites and version upgrades is essentially the same. The steps involved to obtain a license are as follows:
The license details from the client environment for the required product need to be exported into a license file and emailed to Eralis.
If there are no issues with providing a license, Eralis will email back a production license using the information provided. Please see article Changes that Require License Updates on the data elements used for generating a license.
This license file will then need to be imported into the Eralis license administration.
The import and export process is all carried out from the License tab of the Eralis License Administration form. This form can only be accessed when an Eralis add-on application is running, by user accounts defined as Super Users. The form is found in the following menu structure: Administration > License > Eralis License Administration.
Please be aware that licenses can be requested prior to an upgrade being carried out. If the upgrade is being performed outside of standard working hours there may be a delay in generating a license file.
Exporting the Client License Details
The export of the license details will generate a file that contains all required information for creating a production license.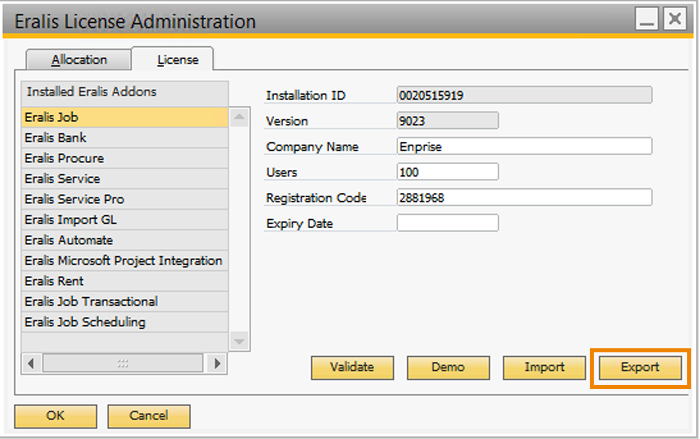 When exporting the license files, please ensure that the correct application is selected in the left-hand grid. The system may show multiple applications in the left-hand grid even though the end user company does not use the product.
By clicking on the Export button the system will open a Save file dialog box allowing the user to provide a file name and determine where to save the export file. This process will need to be carried out multiple times if the company has multiple Eralis products.
Emailing Eralis
The export file or files that were generated from the export need to be emailed to devsupport@eralis.software.
Please refer to this article for requirements to generate a license. If these requirements are not met, a license file will not be supplied even if the end user system has been upgraded.
Importing License Details
Based on the export files, Eralis will generate and send by email, the required production licenses. These need to be imported into the system using the Import function on the Eralis License Administration screen.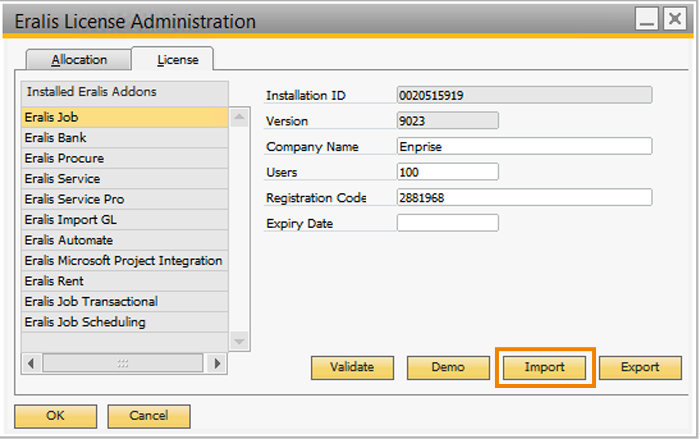 Clicking on the Import button will open a file browser window to select the license files that were emailed through.
Please ensure the correct application is selected in the grid on the left for the file that is being imported. If the incorrect application is selected the import will fail.