With the release of the 8.81.200 version of Eralis Job, new licensing tools became available to allow the request or upgrade of licenses to be carried out online from the Eralis Job application, as opposed to the traditional manual method whereby licenses had to be imported into the system.
The online license validation system allows new or upgrade licenses to be applied to a client system without having to request or import license files. The process is carried out on the License tab of the Eralis License Administration screen illustrated below: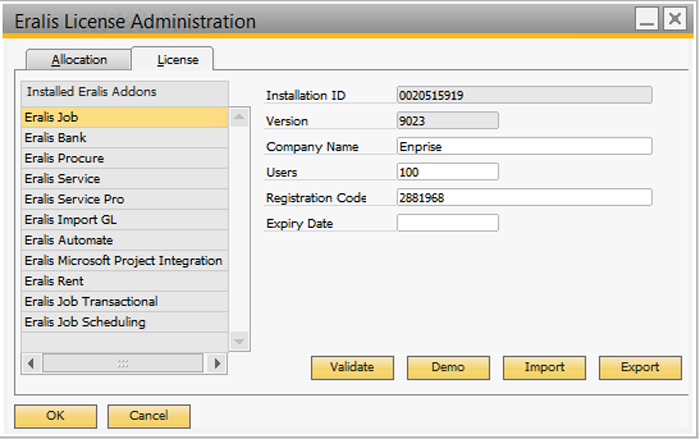 The validation process is carried out by clicking on the Validate button which causes the application to contact a web service hosted by Eralis and pass the Installation ID and Version number. The web service will then validate the information, and if the validation is successful, update the Users, Registration Code and Expiry Date with the valid license details.
If the validation fails, the system will return an error message to contact Eralis.
The validation can fail for the following reasons:
A change in the key data elements that are used in generating the license that have not been updated with Eralis. These data elements are listed below.
The end user has not been setup inside the Eralis registration system which is potentially due to required information not being supplied.
The end user is trying to upgrade to a new version but their maintenance is not up-to-date.
The end user has been deactivated.
This process is the same for a new site that is being implemented, or an upgrade that is being carried out. Please refer to the requirements that need to be in place prior to making a license request.
For the application to access the web service, the following infrastructure needs to be in place:
The machine must have internet access.
Port 80 on the firewall needs to be open. This is the default port for internet traffic.
Note: There was a change to our license server in which means that versions between 8.81.200 and 9.02.2xx are using the old license server URL, therefore this Online Request will fail.  The license details need to be updated manually by entering directly into the Eralis License Administration > License Tab and clicking UPDATE instead of VALIDATE.  Versions 9.02.3xx onwards can use this online license request feature.