With the Job Scheduling Setup screen in Add mode, new work schedules can be created to apply to individual resources.
Non-Productive Categories
The Eralis Scheduling Tool allows you to schedule all aspects of resource use. While some of this work is productive job work, there will also be a portion of this time which is not productive. Examples include:
Statutory holidays
Annual / sick leave
Preventative maintenance
Non-productive scheduling allows you to record non-productive time against the Subjob to accurately track the associated costs. Non-productive categories are setup under: Administration > Setup > Job > Job Scheduling > Non Productive Categories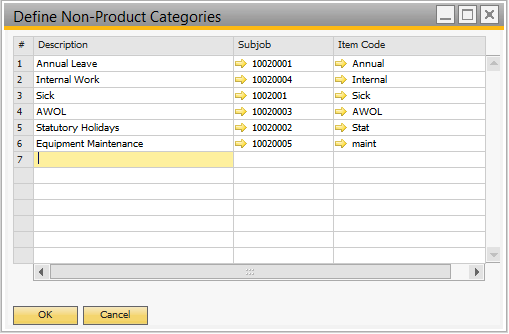 The above setup screen allows you to define:
The non-productive categories you want to track
The link to the Subjob
The Item Code which to be used when generating scheduling timesheets for these items
Field
Options
Details
Description
 
A user defined value for the non-productive category. This value will be displayed in a drop-down list when using the non-productive scheduling form.
Subjob
Search list of active Subjobs

The Subjob that will be used to track costs associated with this category. Each category must have it's own unique Subjob.

Recommended best practice is to create a separate Job Type for internal / non-productive work. You do not need to create a
Job Type for each category of non-productive work, just a general category for non-productive work. Then set the Job Type to be non-chargeable.

This will:

Ensure that all transactions on the Subjob have a zero sell price and will not impact any value-based reporting.
Provide a filter for doing a bulk write off to remove the transactions from work-in progress at month end.

Item Code
Lookup of non-inventory items

The item code is used when generating scheduling timesheets for the scheduled non-productive time.