The Actual Transactions tab provides the user with the ability to see costs that have been incurred against a Subjob at any point in time, and the associated profitability of the Subjob overall. Drill through capability is provided for each group of transactions to allow the user to review the detail making up the various balances.
The section is split between actual transactions that have been incurred and draft transactions that have been entered, but not yet posted through to the Subjob. Material, staff and resource timesheets can be entered into Eralis Job and saved as draft transactions which do not update the costs and value of a Subjob, to allow for further editing of the transactions, or review of the transaction prior to posting.
This tab can be disabled for individual users through settings in the Eralis Job User Authorizations.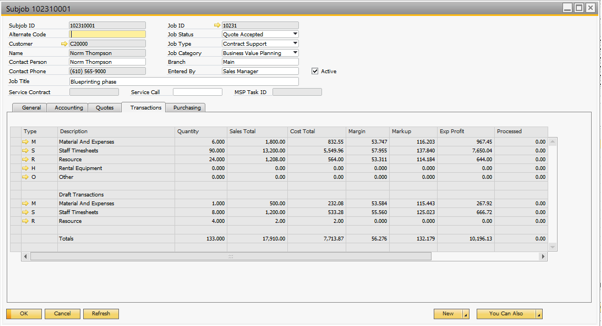 On this screen, the user can create new transactions specifically for Subjobs linked to this Job. By clicking on the drop-down arrow on the New button the user can choose which type of entry they wish to create, then record the necessary transactions against it.
When entering the data entry screens from within a Job or Subjob, the system only allows the entry of transactions for the Subjobs linked to the Master Job. The Jobs that are available in the selection lists will be limited to the Subjobs linked to that Master Job.